---
Wolf Reproduction Company
1300 E. Whaley St. – Suite D
Longview, Texas 75601
(903)753-1721
We Copy, Print, Bind, Scan, Digitize,
Laminate,Mount, and Pack & Ship
Hours: 8:00 to 12:00 & 1:00 to 5:00 M-F
---
Wolf Reproduction Company
1300 E. Whaley St.
Longview, Texas
We Copy, Print, Bind, Scan, Digitize, Laminate, Mount, Pack & Ship
(903)753-1721
Hours: 8:00 to 12:00 & 1:00 to 5:00 M-F
---
Large Format Printing & Plotting
including Photo Quality Color and B&W
up to 60″ in width
Our Large Format Printing Services provide the ability to use most any graphics file, photograph, or artwork to print photo quality posters, banners, wall murals, backlit images, blueprints, etc to all sorts of materials in sizes as large as 60 inches in width by 1200 inches in length.
Have questions?  Give us a call…
(903)753-1721

Acrylic Prints
Create a Modern Masterpiece for your Home
Super Vivid in High Definition
If your wall graphic deserves a clean modern aesthetic look, look no further than Acrylic Prints. Vivid clear gloss vinyl prints are face mounted on Acrylic/Plexiglass and then backed with white vinyl to make the colors pop. 1 inch Standoff hardware is included that brings the artwork into the 3rd dimension by creating separation from the wall.
Questions?
Call us! (903)753-1721
Scan/Digitize
up to 44″ in width
We scan/digitize small and/or large photos, documents, pages, etc. – full color and/or black & white for in-house printing or save to a file for email or for storage to flash drives, hard drives, CDs, etc. and in most cases can upsize or downsize resolution and file format to fit your needs.
Have questions?  Give us a call…
(903)753-1721
Custom Wall Murals
Transform any wall in your home, office, business, or classroom with a beautiful custom printed wall mural.  Also known as wall paintings, we can print from your high resolution photo or image file – or – help you locate just the right content for your need.  Examples are shown at right:
Need more information?  Give us a call…
(903)753-1721
Printing, Mounting, and Laminating services for any project including large and small Presentation Boards
Specializing in Trial Boards for Courtroom Exhibits, we have modern equipment and the expertise to provide large and small Mounting and Laminating services for designing and producing all sorts of Presentation Boards, Advertising Boards, and Information Boards.
Call today!
(903)753-1721
Spiral Binding
Spiral binding is an excellent choice for reports, presentations, proposals, directories, cookbooks, manuals, guides, manuscripts, and MORE.
Call today!
(903)753-1721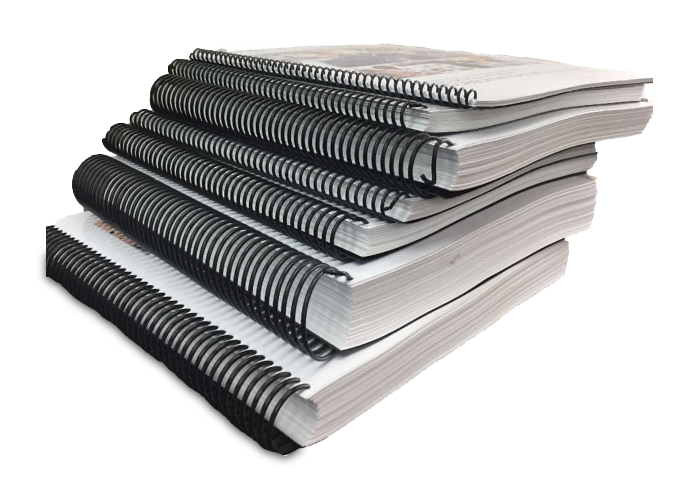 We have Caddo Lake Maps
Double sided – Includes both Texas & Louisiana
Excellent map for boating and fishing
Includes points of interest and Marina locations
Water Resistant
Come and take a look at the map we have on display.
We're open Monday thru Friday 8-5 closed for lunch 12-1.
1300 E. Whaley Street, Suite D – Longview, Texas
Caddo Lake is a 25,400-acre lake and bayou on the border between Texas and Louisiana, in northern Harrison County and southern Marion County in Texas and western Caddo Parish in Louisiana.
(903)753-1721